Bible Studies
ADULT BIBLE 
Sunday
New Bible studies will begin in the fall.  Stay tuned.
Tuesday
Men's Bible Study – Led by Vern David
Topics for the year are prayer, working through disagreements, and reconciliation.  We will also examine some selected Bible chapters based on suggestions from the group.  Coffee and morning snacks included!
Meets in building 10 from 7:00 am to 8:00 am except for a few weeks around the holidays.
Thursday
LifeLight Ladies Bible Study – Led by Le Kauth
This session, beginning September 13 and continuing for 9 weeks, will cover the minor prophets Obadiah, Jonah and Micah.  Study materials need to be ordered prior to the start of the session.
Meets in Room 10B   9:30 – 11:00 am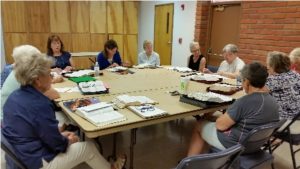 A Longer Look at the Lessons Bible Study – Led by Pastor Roland 
You have a chance to hear and discuss the weekly readings and gain insights in what God's Word has to say to you.  Please bring your Bible
Meets in Room 10C   9:30 – 11:00 am