Bible Studies
ADULT BIBLE STUDY 
Sunday
2 Corinthians –

 Led by

Pastor

Rachuy
A study of Paul's 2nd letters to the Corinthians
Meets in the Music Room, Room 14  9:10 – 10:00 am
Cultures in Conflict – Led by Paul Buelow
A 5 episode study filmed on location in Greece and Israel by Ray Vander Laan which includes the historical, geographical and cultural context of the sacred Scriptures.
Meets in Room10 , 9:10 – 10:00 am
Thursday
LifeLight Ladies Bible Study – Barb Gigstad
A 9 week study on the book of Hebrews began on March 28.  See Barb Gigstad or e-mail her at barbgigstad-@gmail.com if you are interested in attending as study materials must be ordered.
Meets in Room
 10B   9:30 – 11:00 am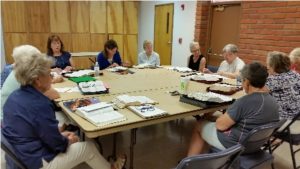 Adult Bible Study – Led by Pastor Palmer
An oppportunity to study and discuss Leviticus and other books in the Bible.  You are invited to join fellow members is readying, discussing and applying the Word of God in our lives in the 21st century, please bring your Bible.
Meets in the Music Room, Room 14
   9:30 – 11:00 am