Bible Studies
ADULT BIBLE STUDY 
 Sunday
Behold the Man! – Led by Pastor Rachuy

 
"Behold the man!" was Pontius Pilate's short, yet most profound, sermon.  Our endeavor this Lentide and Easter Sunday is to behold the man, God in human flesh, Jesus.  Each time together, we are meditating on and proclaiming His real, bodily suffering and death as well as his physical resurrection.  He knew all that real bodies experience; He suffered, wept, bled, ate and hoped.  Class schedule and subject is listed below:
March 10 – No Class.  Vision/Mission presentation (Room 9)
March 17 – Behold the Man!  A God Who Prays  (Room 9)
March 24 – Behold the Man!  A God Beaten  (Room 9)
March 31 – No Class:  Beackfast between worship services (FLC)
April 7      – Behold the Man! A God Exposed (Room 9)
April 14    – Behold the Man!  A God Who Thirst (Room 9)
Tuesday
Men's Bible Study – Led by Vern David
Topics for the year are prayer, working through disagreements, and reconciliation.  We will also examine some selected Bible chapters based on suggestions from the group.  Coffee and morning snacks included
Meets in building 10 from 7:00 am to 8:00 am except for a few weeks around the holidays.
Thursday
LifeLight Ladies Bible Study – Led by Le Kauth
A 9 week study on the minor prophets Nahum, Habakkuk and Zephaniah began on January 10.  See Le Kauth if you are interested in attending as study materials must be ordered.
Meets in Room 10B   9:30 – 11:00 am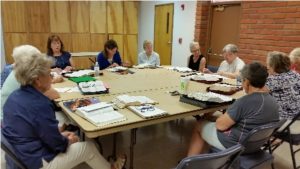 A Longer Look at the Lessons Bible Study – Led by Pastor Roland 
An oppportunity to study and discuss the Scripture lesson to be used in the following Sunday's worship.  You are invited to join fellow members is readying, discussing and applying the Word of God in our lives in the 21st century.
Lessons began on January 10, please bring your Bible.
Meets in Room 10C   9:30 – 11:00 am