Bible Studies
ADULT BIBLE STUDIES
Tuesday
Men's Bible Study – Led by Vern David
This study will resume in the fall.
Thursday
LifeLight Ladies Bible Study – Led by Le Kauth
Classes will resume in January.
Meets in Room 10B   9:30 – 11:00 am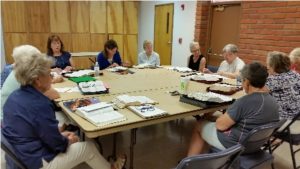 A Longer Look at the Lessons Bible Study – Led by Pastor Roland Kauth
This class begins on September 7 with the study the scripture lessons for the following Sunday.  You have a chance to hear and discuss the weekly readings with your fellow members and gain new insights in what  God's Word has to say to you.  No text other than your Bible (any version you may be reading) and a heart open to the leading of the Holy Spirit.  Daily reading assignments available in the rear of the Sanctuary.
Meets in Room 10C   9:30 – 11:00 am