Bible Studies
ADULT BIBLE STUDIES
Tuesday
Men's Bible Study – Led by Vern David
Topics for the year are prayer, working through disagreements, and reconciliation.  We will also examine some selected Bible chapters based on suggestions from the group.  Coffee and morning snacks included!
Meets in building 10 from 7:00 am to 8:00 am except for a few weeks around the holidays.
Thursday
LifeLight Ladies Bible Study – Led by Le Kauth
A 9-week study of the Old Testament prophets Hosea, Joel and Amos.  Study materials required.
Meets in Room 10B   9:30 – 11:00 am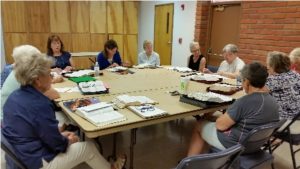 A Longer Look at the Lessons Bible Study – Led by Pastor Roland Kauth
A study into the Bible readings from the prior Sunday.
Meets in Room 10C   9:30 – 11:00 am